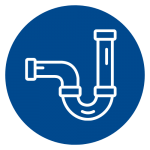 New Supply and Drain Lines
Professional Plumbing Services in New Jersey, NJ
The main reason why you may possibly need new drain and supply lines is for a new bathroom, an additional sink, a bigger kitchen, or an addition to your house.
It's naturally evenly simple to get a supply line to a new bathroom because these types of lines, even if it's copper or PEX, can take all kinds of turns.
A home plumbing system can use different variety of piping materials. Using the proper piping for each specific situation or purpose is very important. 
Our technicians are very aware about the various pipe alternatives and their benefits. Some of these pipes include:

A great plumber will be able to size up the situation and come up with a plan that takes the least amount of work. Here at BJC Plumbers we install new waste lines in all types of situations, including new toilets for new bathrooms, in an existing structure, or in an added structure on your house.  
When we work on your house, and we have to replace your water lines, we don't just do amazing job replacing them, we guarantee that they run so that you have a slightest of issues with the elements and other problems that create chaos with your plumbing system.
Call us at (201) 885 7265 to discuss your plumbing needs and be on your way to better indoor comfort in a bit!
Please call us today when you have any questions about any of our services, or have an emergency. We're glad to speak about on the phone with you any troubles which you have together with your family plumbing and provide any advice we are able to, earlier than we actually come on your place. If five minutes of loose recommendation is all you need, we are happy to help. Our intention is to be there for you, promptly and in a well mannered way when something arises that requires a professional's careful touch. Constructing robust relationships is a key part of our enterprise.